OzSky 2019: The OzSky Star Safari
31 March - 7 April, 2019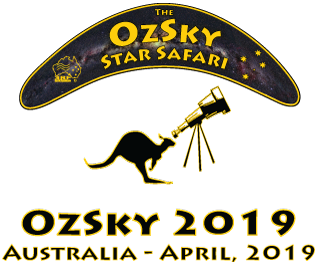 The "OzSky Star Safari" is an exclusive event hosted by 3RF Australia on the outskirts of Coonabarabran, New South Wales - The Astronomy Capital of Australia.
Our primary aim in offering these OzSky events is to provide astronomers from the Northern Hemisphere with not only a unique Australian cultural experience, but more importantly a unique opportunity to experience the grandeur of the southern night skies through a number of large, high quality astronomical instruments without the need to transport large telescopes from one side of the world to the other.
Formerly known as the Deepest South Texas Star Safari due to the founding attendees coming primarily from Texas, the name "OzSky Star Safari" has now been adopted to reflect the expanding demographic of amateur and professional astronomers now attending this popular event on a regular basis.
OzSky 2019 will be held between 31 March - 7 April, 2019 however many participants choose to arrive in Sydney a few days earlier to explore the City of Sydney or simply to acclimatize to the local time zone.
For more details including booking information and registration forms for this unique event, please visit the OzSky website at www.OzSky.org.